Measurement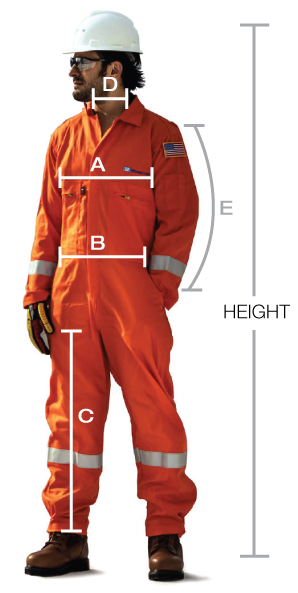 A. Chest Size
Place tape measure around fullest part of the chest and over clothing keeping it up under arms an around the shoulder blades. Number of inches in your size.
B. Waist Size
Measure around waist, over shirt (not over pants)at height you normally wear your pants. Hold tape as snugly or as loosely as you want your pants to fit. Number of inches is your size.
C. Inseam
Measure inseam from base of crotch seam to the top of the shoe to be worn. Number of inches is your size. Or Take a pair of pants (not jeans) that fits you well. Measure from the crotch seam to the bottom of the pants.
D. Neck Size
Measure neck by holding tape snugly. Read number of inches as size. Or take a shirt with a collar button to far end of buttonhole.
E. Sleeve Length
Hold arm chest high, bent slightly at elbow. Measure from bottom of collar at center of back around elbow to far end of wrist bone.
Coveralls

Note: Coverall size will be the larger measurement of either the waist or chest (An individual with a waist size of 40 and a chest size of 42 will choose a coverall size of 42).
Shirts

Pants

Inseam Measurement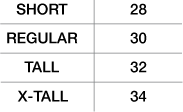 Height Measurement