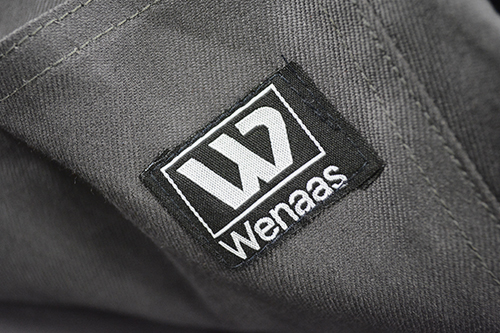 Flame Resistant 88/12 & 100% Cotton Garments
You may use standard home laundry detergents to wash garments, but do not use chlorine bleach, liquid peroxide bleaches or detergents containing hydrogen peroxide, fabric softeners or starch. FR garments are performance based apparel. As such, the following laundering guidelines are offered to ensure the garment performs in the manner it was designed on a consistent basis.
Home Laundering
When home washing garments made from FR fabrics, you may use typical home laundry detergents utilizing any wash temperature recommended by the detergent. Do not use other soaps (tallow soaps contain animal fats which are flammable). Garment stains may be treated with a non-bleach type commercial stain removal product. Repeated chlorine bleaching damages cotton and compromises fabric strength. This may compromise the FR chemistry that is permanently chemically bound to the cotton in the garment. Do not use home wash detergents containing hydrogen peroxide. Starch, fabric softener, and other laundry additives can coat the fiber and mask flame resistant performance. They may also serve as fuel in case of combustion. Flame resistant apparel should be washed using soft water (< 4 grains). Hard water can affect cleaning and may contain mineral salts that can cause insoluble deposits on the fabric which may serve as fuel if garments are exposed to an ignition source.
Commercial Laundering
FR cotton and cotton blend fabrics have similar shrinkage expected in regular cotton garments. Hotter water temperatures generally cause greater shrinkage, but may be required to remove certain soils. It is important to remove flammable soils as they may compromise FR performance.
Fabrics maintain their FR performance for the useful life of the garment when washed according to care instructions. During commercial laundering, Wenaas USA recommends washing garments according to the NFPA 2112 guidelines. For best colorfastness and garment appearance, use wash temperatures at or below 150° F, however; garments may be washed at up to 165° F. Wenaas USA recommends washing FR garments separately from other garments. Use the correct water level for the load and do not overload the machine. When drying, do not over dry the garment. If dried either too long or too hot you may get excessive shrinkage (typical for cotton, in excess of 5%). If desired, iron with a synthetic/cotton iron setting, with or without steam. Do not use starch.
Dry Cleaning
FR cotton/nylon garments may be professionally dry cleaned. Either petroleum solvent or perchloroethlyene can be used. When using petroleum solvent, it is necessary to ensure that all solvent has been completely dried from the garment. With either solvent type, the garments must be free of
redeposition of any kind. The information in this report is based on the results of testing in accordance with NFPA 2112-2007, NFPA 70E-2004, ASTM 1506-02, and additional laboratory and commercial laundry testing.
MAXIMIZE SAFETY: In order to maximize safety, it is important that you keep your garment clean. Flammable residue in the garment may ignite and cause injury. Avoid wearing flammable synthetic fabrics underneath your fire resistant clothing, as transfer heat may cause these to melt and cause severe skin injury. Discontinue the use of damaged garments immediately, and have them repaired before further usage.
100% Cotton (Non Flame Resistant Fabrics)
Washer Settings
Laundry Care Key
Water Temperature
Industrial Wash
Do not recommend more than 165°
Light Soil Wash
140° wash maximum is light soil formulas
Home Wash
120° or less in 6 lb. load machine such as used at home.
Dry Clean Only
Professional Dry Cleaning
Notes
DO NOT USE Detergents with Bleach such as Tide w/Bleach
Oil and Grease Stain Removal Tips – See bottom of page.
Dryer Temperature Settings
For clothing that contains Polyester or other synthetic fibers it is recommended for best results to use low or medium dryer temperature settings. Polyester and other synthetic fibers can be damage by using too high of a heat setting. Do not dry on High!
Oil and Grease Stain Removal Tips for NON – FR Clothing
Using a paper towel, blot at the grease stain, using a lifting motion, until no more of the stain comes off on the paper towel. If applicable.
Treat and presoak stain a couple of hours before washing. Something like Spray n' Wash, Wisk, or Resolve. This will help loosen the stain. Before washing, you may need to work the fabric by hand or a soft brush to work the presoak into the fabric.
Wash the item as per the directions found on the care tag.
When washed, air dry the fabric by either laying flat or hanging from a clothes line. DO NOT place in the dryer until you are sure the stain is completely gone if any stain remains the heat from the dryer will set the stain and it will be virtually impossible to remove.
Do Not place the garment into the dryer before the stain is completely removed, line dry if need be. Once the stain is dried with heat, it's pretty much set for life. Remember, always wash work clothes separate from the regular household laundry.