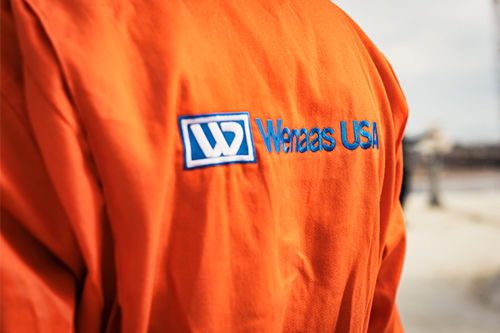 Wenaas USA is A Global Company dedicated to manufacturing and the delivery of High Quality Work Wear and Protective Gear Solutions to our customers within the US and throughout the world. With over 3,500 employees worldwide, our global presence consists of manufacturing facilities in the Dominican Republic, Mexico, Guatemala and the US.
At Wenaas we believe in the constant relentless pursuit of excellence and quality for our customers.
Our facility in Houston, Texas features a 50,000 Square ft. working space for the manufacturing, customization and stocking of our products. The space also includes an in-house digital-direct embroidery center. Digital-direct capabilities allow us to customize and brand our products on a large scale for our clients, who include some of the world's most recognizable brands.
The main Wenaas product offerings include: Lined and unlined Coveralls, Shirts, Pants, Bibs, Parkas and jackets. All of the offerings are available in Non Flame-Retardant and Flame-Retardant options. All Flame Retardant options meet the performance requirements of NFPA2112.
Main Product Offering
Lined and Unlined Coveralls, Shirts, Pants, Bibs, Parkas, Jackets; Available both in FR and Non-FR; All FR products meet the performance requirements of NFPA 2112.
MANUFACTURING FACILITIES
Dominican Republic, Guatemala, Mexico and USA
Houston Facility
50,000 Sq ft; stocking over 300,000 items and complete House Digitizing Direct Embroidery capabilities.
(Global: 3,500 Employees)